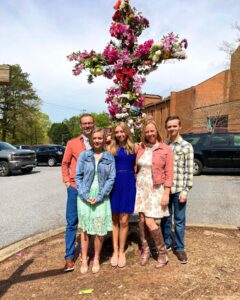 Chris Lind
Began August 2022 as Director of K-12th, but

has served Crossroads as their Senior Pastor since August 2021.

Chris is married to Erin and they have three children. Chris has a BS in Religion, Masters in Theology, Doctorate in Theology, and a PHD in Christian Education. Chris is also a retired US Marine and a former police K-9 officer. Chris likes spending time with his family and teaching Tae-kwon-do.
Began July 2022 as K-12th Administrator. Is married to Rachel and has one child on the way. Has a BS in Information Technology from Georgia Southern University. Andrew likes to cook, eat, and game.
CHRIS.JORDAN@
Blain Lindsey
Began in 2020 a Youth Pastor of Crossroads Church. Is married to Tori and has one child. Blain runs the weekly chapel service for Academy students grades K-12 as well as the Youth program for the church.
Michael Barlow
Chuck Madden
Danny Thomas
Jeff Mitchell
Cole Mitchell