CCA's EARLY LEARNING CENTER
At CCA Early Learning, we are proud to offer a full day learning program with low student-teacher ratios for children 6 weeks through Pre-k.
We strive to provide a Christian foundation for children including chapel time, Bible stories, verses, songs and prayer. It is our desire to build Christian values such as strong character, moral convictions, and a love for the Lord within the hearts of our students.
Our hours are 7:30 A.M. – 6:00 P.M.
"Train up a child in the way he should go; even when he is old he will not depart from it."
As parents and teachers, we know God did not make only one type of child.
Some children prefer to TALK

Some children prefer to LISTEN

Some children prefer to TOUCH

Some children prefer to LOOK

Some children prefer to MOVE

Some children prefer to CREATE
Regardless of how children like to learn or show what they know, they each have the right:
To be loved

To be motivated

To be presented with Bible facts

To be given opportunities to shine and be successful

To pray

To learn to be like Christ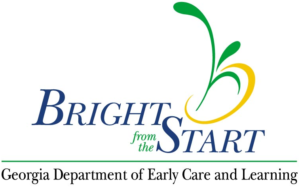 Bright from the Start is responsible for meeting the child care and early education needs of Georgia's children and their families. It administers the nationally recognized Georgia's Pre-K Program, licenses child care centers and home-based child care, administers Georgia's Childcare and Parent Services (CAPS) program, federal nutrition programs, and manages Quality Rated, Georgia's community powered child care rating system.